Free Components
| Name | Description | Download | File size |
| --- | --- | --- | --- |
| TsiImage | TsiImage component allows you to draw animated images on Windows desktop. | | 5,891 |
| TsiSpeedButton and TsiBitBtn | TSpeedButton and TBitBtn descendants with animated glyphs. | | 1,769 |
| TsiFlatBtn | TsiFlatBtn is a button like buttons from MS Office 97 assistant dialogs. | | 3,380 |
| TsiExchanger | TsiExchanger allow to exchange data between your applications. It uses WM_COPYDATA message. | | 1,625 |
| TsiGridReporter | TsiGridReporter is a simply component that demonstrates how to use MS Word as report generator. | | 5,074 |
TsiImage
TsiImage component allows you put your own images on the Windows' Desktop with transparent and animated effects. It may be useful for adding some cool features to your applications. Below is an example picture that demonstrates some of the features of TsiImage.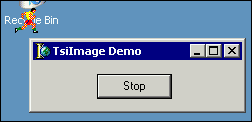 TsiImage Demo
TsiSpeedButton and TsiBitBtn
TsiSpeedButton and TsiBitBtn are descendants of standard Delphi buttons with ability to display animated glyphs.
TsiFlatBtn

TsiFlatBtn component is a flat speed button with round rectangle surface (like MS Office 97 assistant dialogs buttons) and custom colors for 3D effects. You can use this button for design applications with cool interface.
TsiExchanger
TsiExchanger component allows you exchange data between your applications. For sending data to another applications should set up properties of TsiExchanger into both applications and call SendData method. When data arrived OnReceivedData event occurred.